This post may contain affiliate links. You pay the same and I get a small commission. /em>
Does the thought of teaching beginning of the year writing in first grade sound less pleasant than a staff meeting that has gone into overtime?
Teaching first-grade writing is not for the weak. It's no easy task. Like for real.
Teaching first grade writing at the beginning of the year…even trickier.
I remember my first year as a teacher. So excited and full of energy. Writing was absolutely, without a doubt, the one topic I looked most forward to teaching.
Then…not so much.
I had students who struggled to hold a pencil.

Students who ran all their words together. I'm talkin' absolutely no spaces between words whatsoever.
I had students who began every. single. sentence. with the word 'and'.
Worse yet, I had students who wrote an entire paragraph using just one sentence and a whole lot of 'ands'.

I had students who cried because they didn't know what to write about, didn't know how to spell words, or simply didn't like to write.

The list goes on. 
Let's just say that the image of myself being a champion writing teacher on year one was trampled by a gigantic stampede of wildebeests.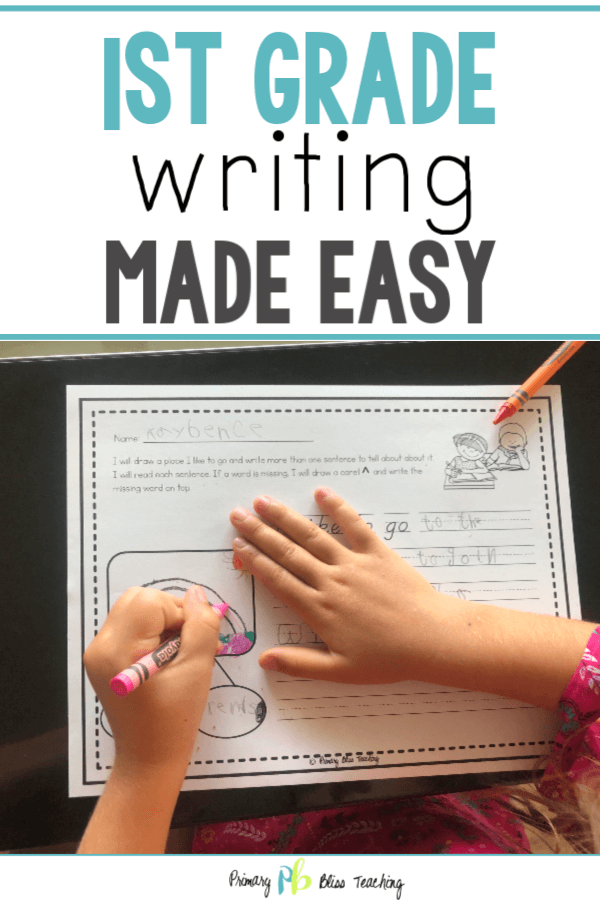 BUT NOW…TEACHING FIRST GRADE WRITING AT THE BEGINNING OF THE YEAR
HAS NEVER BEEN EASIER
Fast forward to today. I can honestly say that writing is easy to teach, and it's oh so rewarding to watch as my 1st-grade writers' abilities soar to new heights.
No Joke!
Why?
After trying, and failing, to implement a Writers' Workshop model, my first-grade teaching bestie and I sat down to take a good long look at our standards and what the end writing goals were for our students.
Then we jumped into backward planning. We asked ourselves what we wanted our students' writing to look like by the end of first grade, and identified all the building blocks students needed in order to achieve our expectations of them.
When this was all said and done, we were able to pinpoint exactly what foundational skills our first graders need to know prior to jumping headfirst into opinion, narrative, and informative writing.
Here's what we came up with:
Drawing pictures using basic shapes and lines
Labeling pictures using best-guess spelling
Writing a complete sentence with a subject and predicate
Proper use of capitals, spaces between words, and punctuation
How to write using a sentence stem
Learn to write telling sentences (declarative)
How to write asking sentences (question)
Teach how to write exclamatory sentences
Writing lists
Listing 3 or more things in a sentence using commas
Respond to questions in writing
Writing stronger sentences using adjectives, adverbs, who, what, where, when, or how
Use feedback from teacher and peers to strengthen writing
Write more than one sentence on a topic
Now imagine jumping into a narrative, opinion, or informational writing unit knowing your students have all of the above skills mastered. Did the thought of that make your teaching life 1,000 percent easier?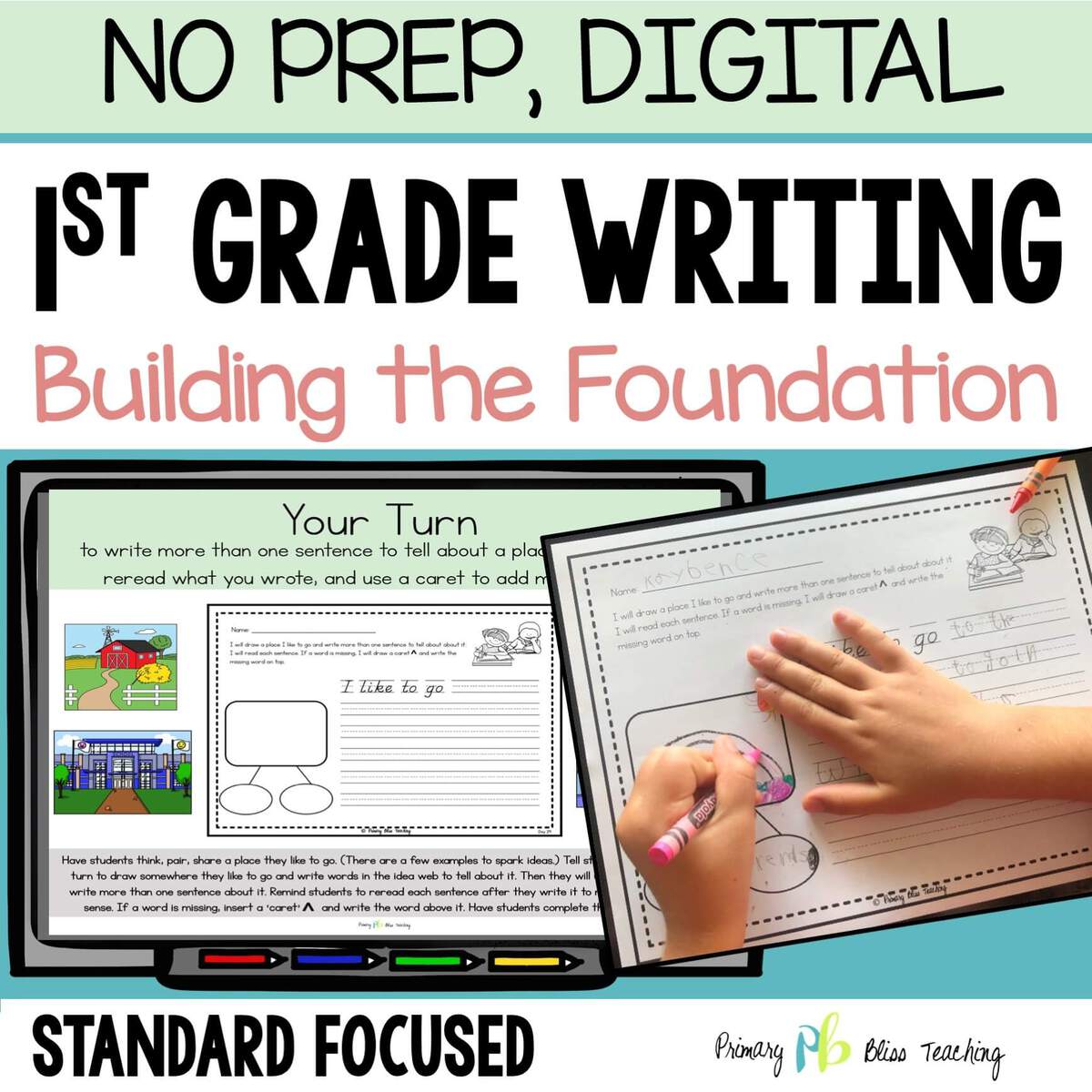 Introducing a Curriculum that will Truly Bring Joy Back to Teaching Writing
First Grade Writing – Building the Foundation
If you're still with me, you're probably wondering what this writing resource is all about. Well, let me show you!
The teaching portion of our First Grade Writing – Building the Foundation unit is DIGITAL. That means no lesson plan pages, instructional pages, or any other pages will waste precious ink! Can I get a hallelujah?
What's more, everything you need for the day's writing lesson is on the slides! (Okay…full disclosure….except for the one student page you'll need each day. You can print out the entire 8 weeks' worth of student work in one little click.)
Here's a quick overview of what most of the daily 1st-grade writing lessons look like. (There are a few variations based on what students have learned.)
1. Share learning targets with students. Have students state the "I will" statement with you.
We have chosen to use "I will" statements as we believe students will take more ownership in their learning. This idea came from a presenter in a professional development course we were in, and we loved it.  Why? The shift students mentally make using "I will" statements versus "I can" statements is tremendous.
We can do lots of things (eat healthier, workout every day, quit drinking coffee). When we change the can to will.…the statement takes on a whole new meaning.
Common Core writing standards for first grade are written on the bottom of each slide.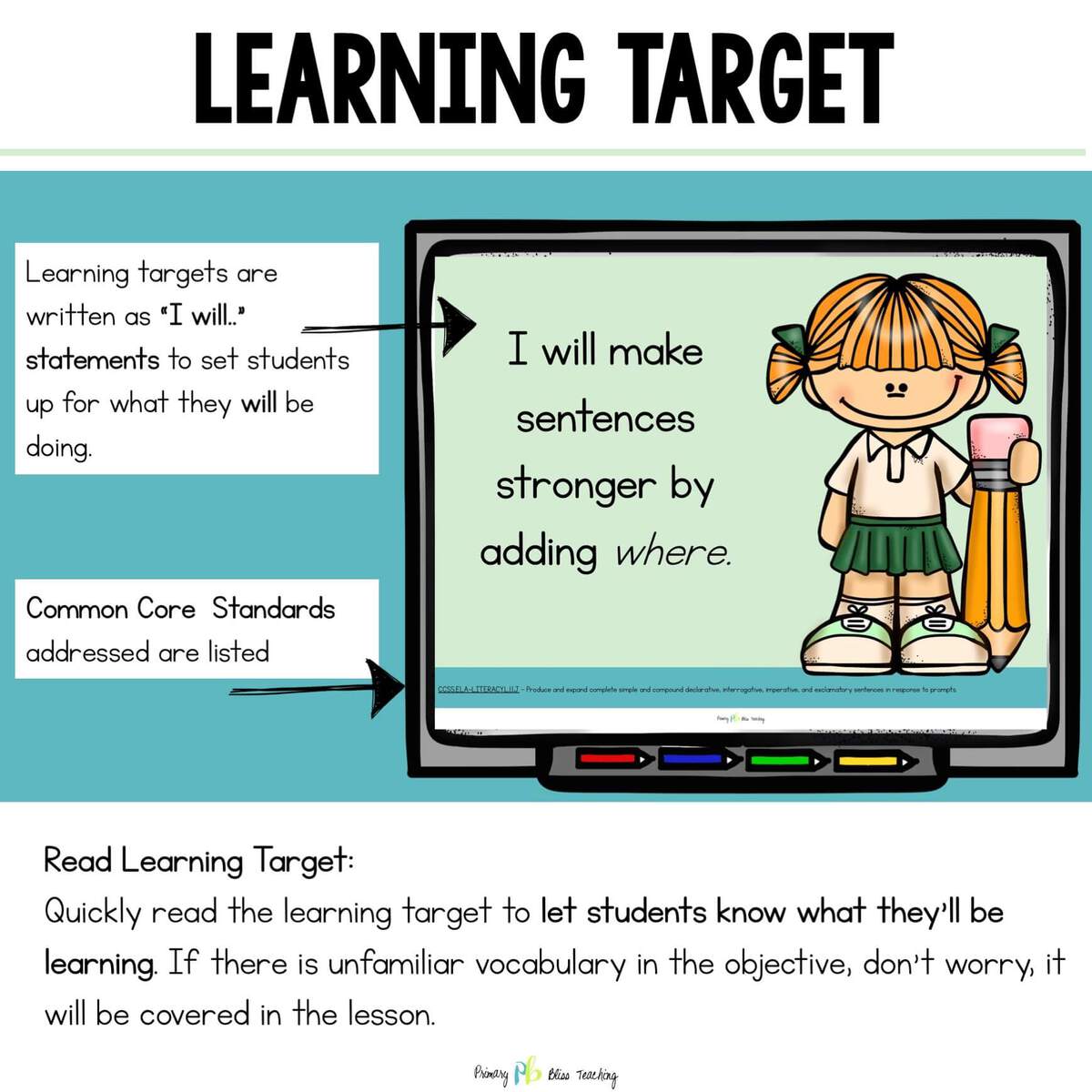 2. Engage students in a Writing Chat activity.
Some lessons begin with a Writing Chat. The purpose of a Writing Chat is to introduce a new writing concept, develop vocabulary, and build background knowledge for students.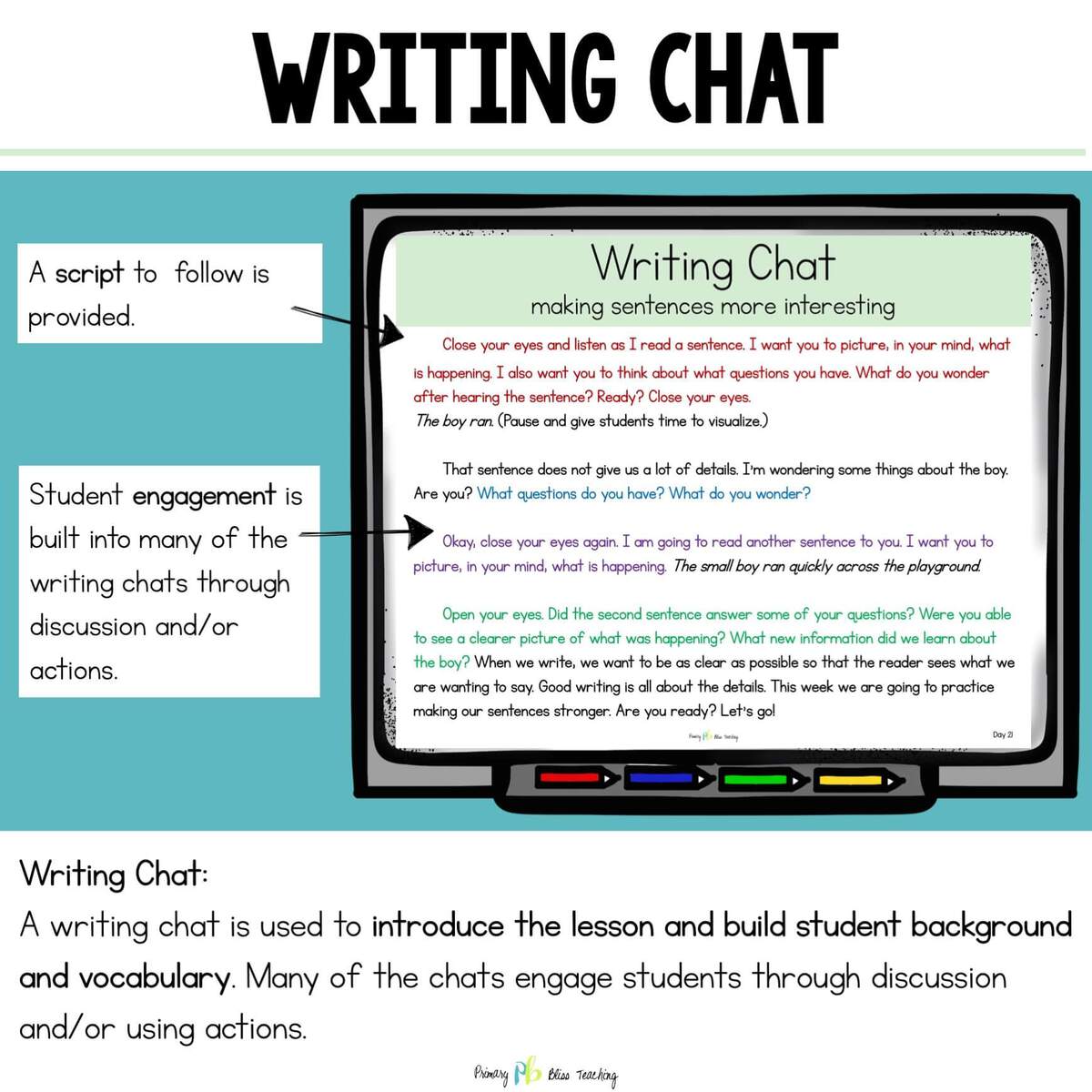 3. Engage Students in the "Watch Me" activity. 
This is where the explicit teaching happens. Students will watch as you model the new teaching target. By modeling your expectations, students have a clear understanding of what it is you expect of them.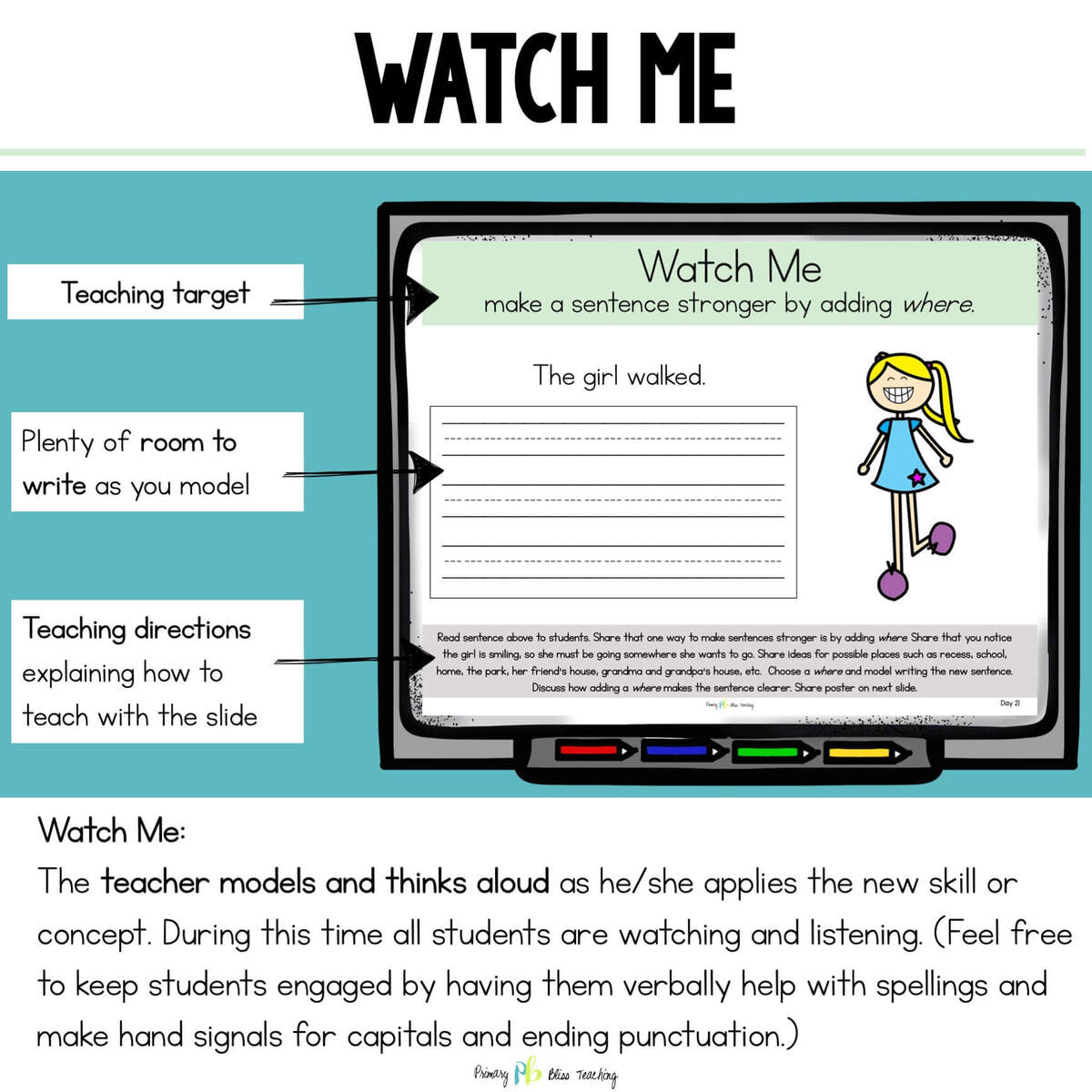 4. Engage students in the "Our Turn" portion of the lesson.
The "Our Turn" portion of the lesson is where you and your students will practice the new skill/concept together. This is the time students will be applying, with your help, the skills and strategies that were modeled. Students are being set up for success for the next phase of the lesson.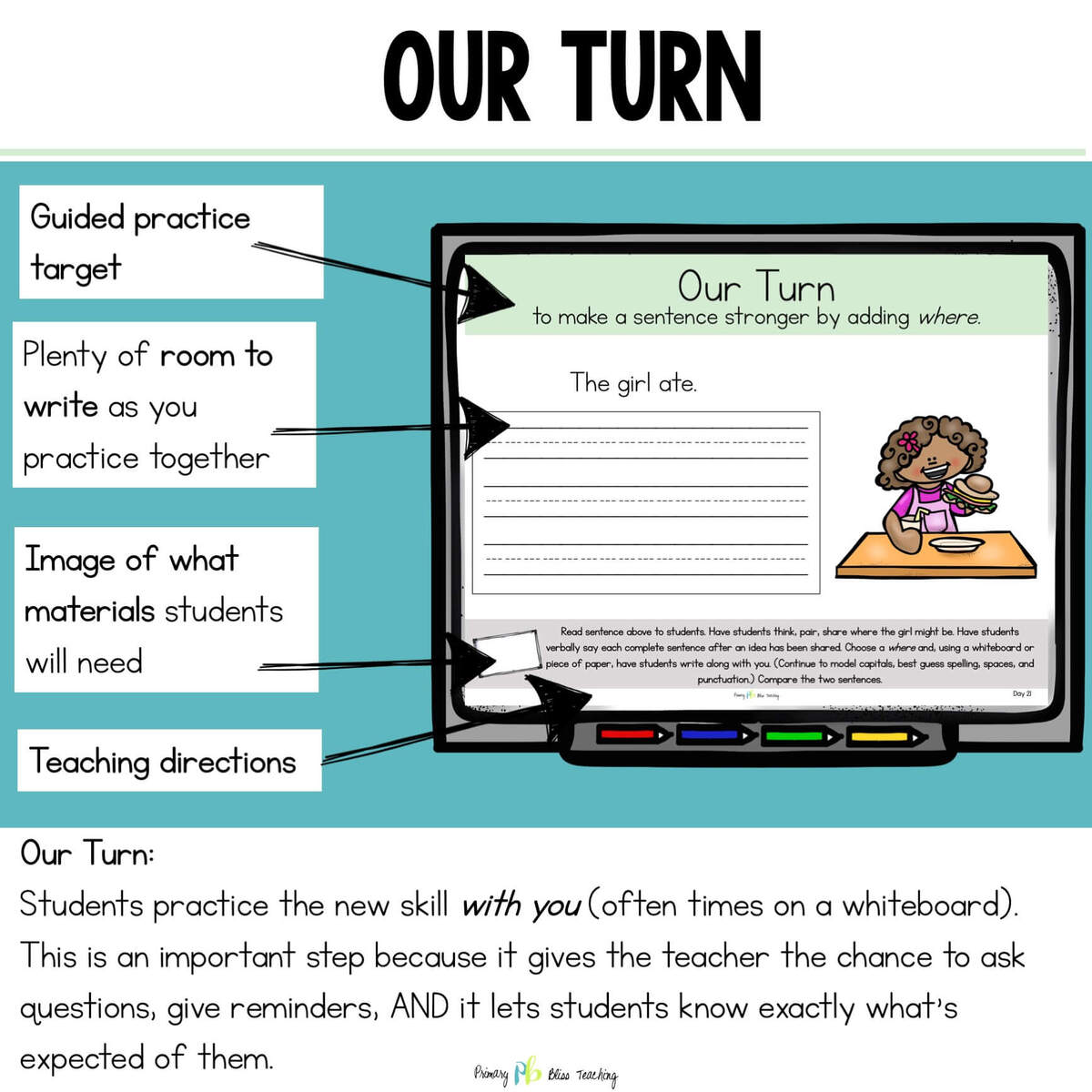 5. The final stage of the lesson is "Your Turn".
Finally, students will independently practice the skill/concept taught. Because they have been explicitly taught the learning target for the day, students will have great success with this writing activity.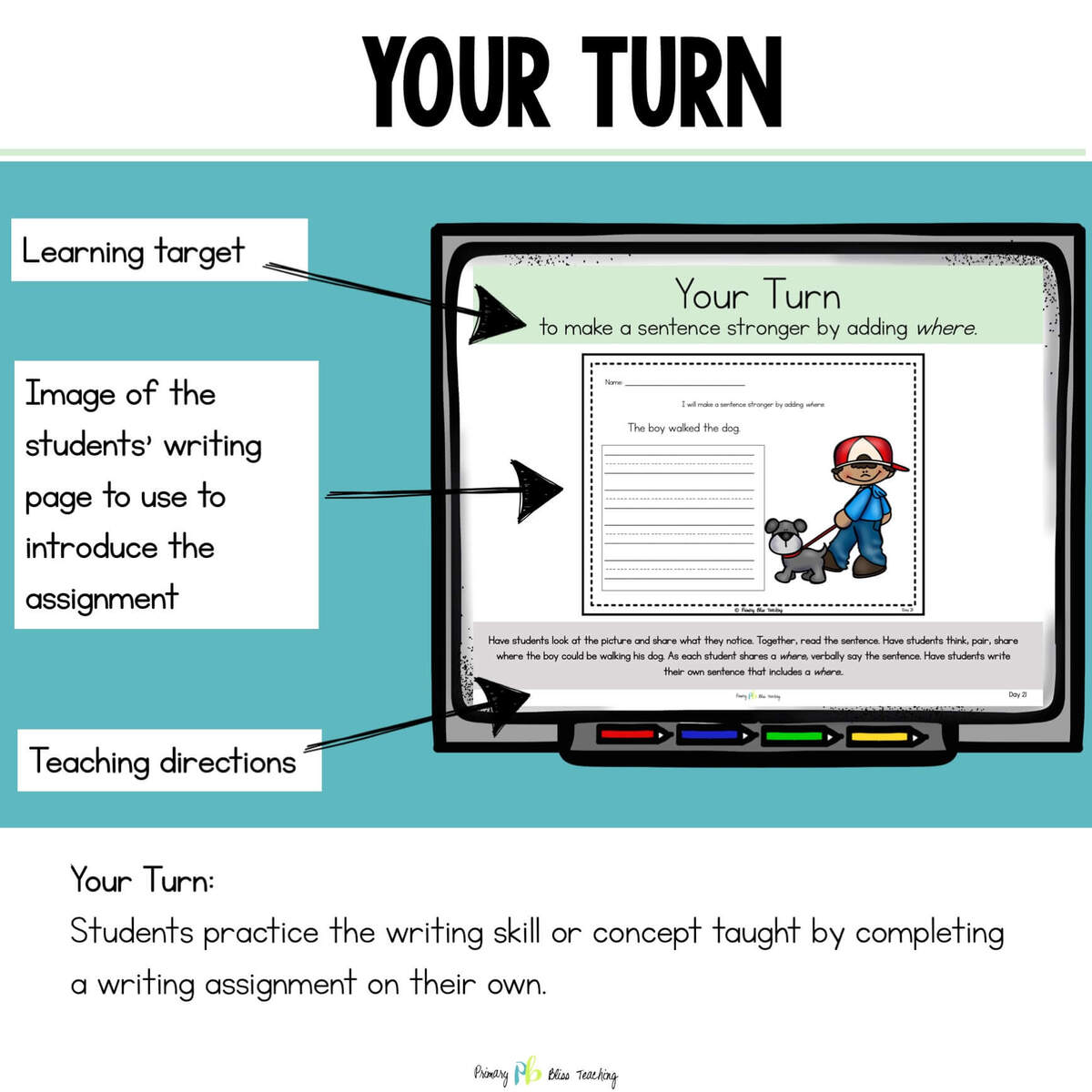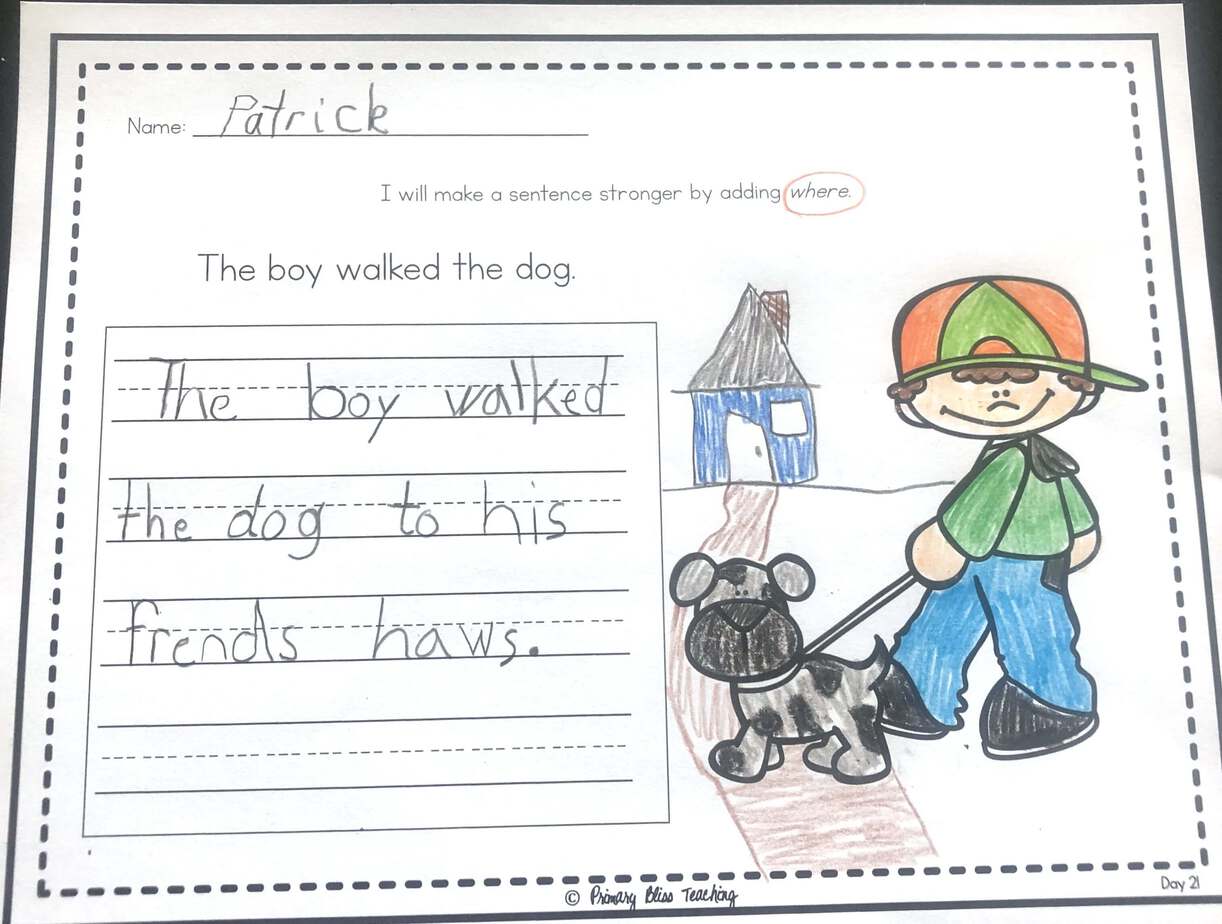 And there you have it! Writing made EASY! Seriously easy. A snap. A breeze. A cinch. You could alllllmost do it with your eyes closed. #okaymaybenot
In all seriousness, we have truly had great success with teaching our first graders to write and oftentimes are complimented on our abilities to teach writing. We give all the accolades to the students. They did the writing. All we did was break it down to itty bitty steps that made it manageable for them to digest.
Are you ready to get your year off to a GREAT with 8 weeks of explicit lessons that will set your students up for success the rest of the year?
If so, CLICK HERE or on the image below to learn more.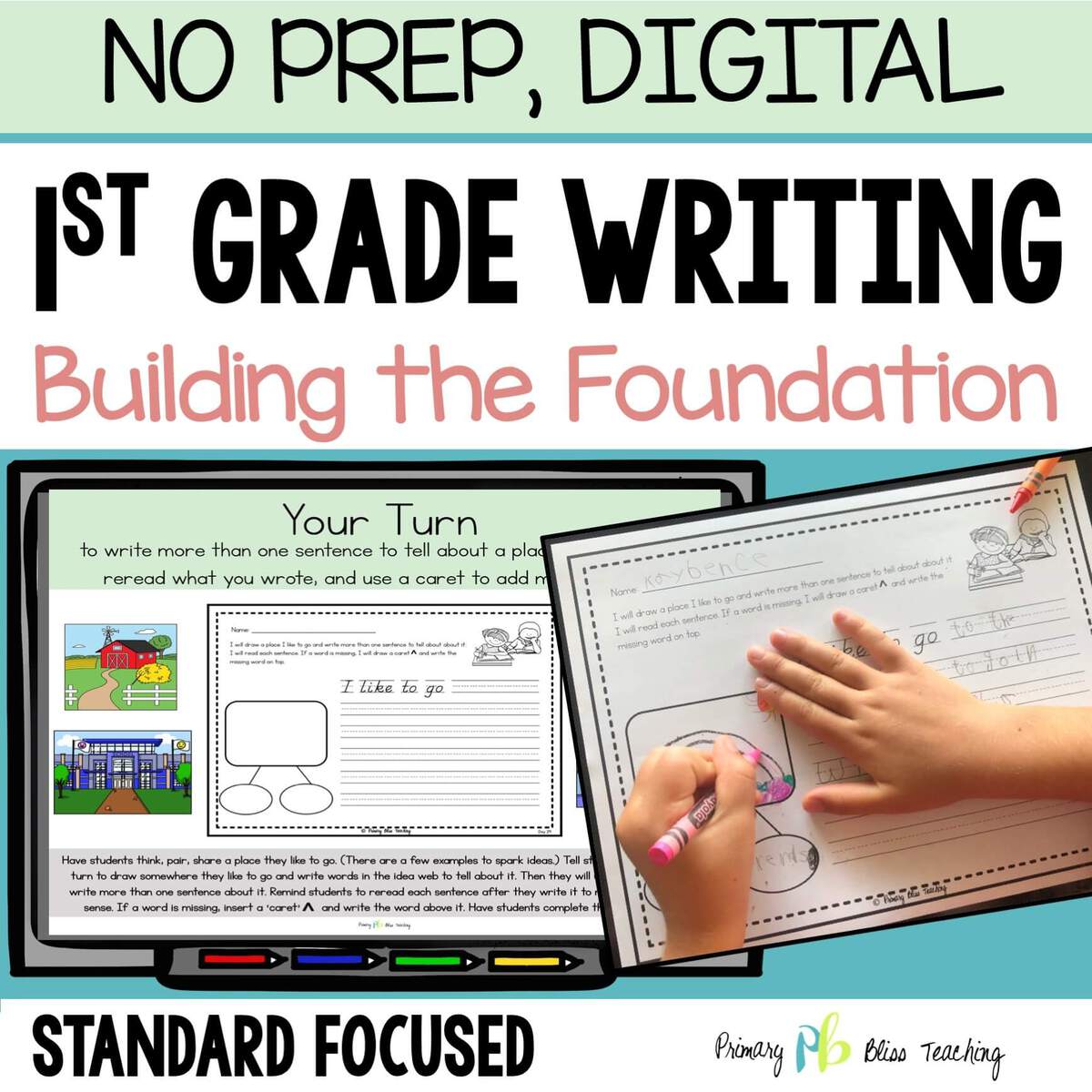 Wishing you joyful days and restful nights. Teaching is tough…take care of yourself and give yourself a whole lotta grace. After all, your superpower is shaping young lives and making our world a better place. Here's to YOU!
Cindy and Becky
Primary Bliss Teaching
Want to make Beginning of Year Writing in First Grade a SNAP to teach? CLICK HERE to check out that, and our other  Grab-and-Go, NO PREP Writing Resources!
Update, we now have second-grade writing resources available too. CLICK HERE to have a peek.
You may also be interested in these blogs:
5 Easy Steps to Teaching Number Talks in First Grade 
18 Phonological Awareness Activities to Try Today!