We often think that writing personal narratives is easy for our first graders. After all, our students naturally share their stories …all. the. time. It's innate. It's human.
Telling personal stories is how we connect with others and share about our experiences, heritage, customs, and feelings.
Yet when we ask our sweet little firsties to write personal narratives, we're often met with the dreaded, "I don't know what to write about." Again, and again, and again.
What do we do?
We panic for a hot second then begin to cheerfully ask them questions in rapid fire motion.
"Can you write about your birthday?"

"Who is your best friend? Could you write about something you did with them?"

"Maybe you could write about a family vacation."

"What did you do this weekend? You can write about that."
Sometimes that works. But let's face the cold, hard truth – most of the time it doesn't. We realize that, if we are being brutally honest with ourselves, we know some of our students truly have little to nothing positive to write about.
The bottom line is that some of our students do not live in a world filled with Disneyland vacations, camping adventures, soccer games, family trips, and weekends filled with laughter.
Have you ever noticed that some of our students get stomachaches when asked to write a personal narrative? It's possible that when they reflect on life experiences, those experiences are far from wonderful.
And what six-year-old wants to write about moving into a camper because they lost their home, wishing they could see their mom again because she left, moving from foster home to foster home, how much they miss their dad who is in  jail, and weekends full of watching TV and playing video games. (All true student experiences.)
The truth of the matter is, we all have had students who do not have an endless supply of wonderful personal experiences that are rich enough to write about. It's a troubling thought, isn't it?
So what's the solution?
Stick with me as I walk you through a proven process that will have your students writing stellar personal narratives, as well as what to do to completely avoid the dreaded I don't know what to write about.
1. SHARE WONDERFUL PERSONAL NARRATIVES THROUGH READ ALOUDS
Mentor texts are FABULOUS! They're fun to read, fun to listen to, and a great way for students to emerge themselves in the genre of personal narratives. So before asking students to write their own personal narratives, expose them to personal narratives through read alouds.
First and foremost, enjoy the heck out of the story, then analyze the structure during a second read. Have students share what they notice as you emerge them in this genre such as:
The words I , me, my, and mine being used.
Discuss that personal narratives are life stories.
Many personal narratives zoom in on small moments in time.

Most contain temporal words to show the order of events being described.

They contain lots of details.
Understanding what personal narratives are and experiencing multiple examples of personal narratives in action greatly increases your students' success at writing them.
Here are some personal narratives (or books written like personal narratives…using the pronouns I, me, my) that we use and love in our first grade classrooms:
The Relatives Came by Cynthia Rylant
Saturdays and Teacakes by Lester L. Laminack
Enemy Pie by Derek Munson
Those Shoes by Maribeth Boelts

Be Kind by Pat Zietlow Miler
A Chair for My Mother by Vera B. Williams
New Shoes by Chris Raschka
Shortcut by Donald Crews
Grandma's Purse by Kerri Kokias
A Different Pond by Bao Phi
Fireflies by Julie Brinckloe
My Dog Mouse by Eva Lindstrom
2. GIVE STUDENTS COMMON EXPERIENCES SO THEY HAVE SOMETHING UNFORGETTABLE AND FUN TO WRITE ABOUT
Hearing the words I don't know what to write about, day after day, can feel like a school of piranhas swarming our classrooms and gobbling up our visions of students excitedly writing wonderful story after story.
And as mentioned earlier, not all students have access to wonderful personal experiences that they want to write about. Fortunately, there's a simple solution.
Give them something to write about.
Give them fun, age-appropriate experiences, then have your students write about them. And wa-lah…you will never hear those dreaded words again.
Here are a few ideas for you to try:
Take your students for an outside adventure to the playground. Ask them to use their senses to observe things they smell, see, feel, and hear. Lay on the ground and look up at the sky to observe cloud patterns. Make a large circle and dance with them. Give them a few minutes to play. Let them roll in the grass. Be silly. Have fun!
Engage students in back-and-forth drawing. Here's how it works. Give pairs of students one piece of paper. Each child has a different colored marker or crayon. Students take turns drawing shapes and lines to create a picture. Students love this activity and will beg to do it again.
Let them build bridges. Give pairs of students 10 plastic straws, an arm's length of masking tape, and index cards. Have them work together to create a bridge that is off the ground and strong enough to hold a cup with blocks in it. They love the trial and error process as they make changes to create stronger bridges.
Let them play! Pull out blocks, puzzles, art supplies, and any other fun things you have on hand. Then give students 10 – 15 minutes to choose an activity with a friend and play.
Engage students in Science/STEM activities, then sit back and watch as your students excitedly write about what they did and discovered. #IntegrationAtItsBest
I can almost hear you thinking… But if I do this, their stories will all sound the same. 
Surprisingly, while there will be some similarities, your students' voices will shine through and their stories will sound very different from one another. Even though all students are engaging in the same overall experiences, their personal experiences are different.
When writing about an outside adventure, one student might zoom in on rolling in the grass and playing tag with his best friend. Another might zoom in on the airplane she saw in the sky and the cloud that looked like a butterfly. And yet another might zoom in on how she crossed the monkey bars and why she was sad when the outdoor adventure was over.
3. TEACH STUDENTS HOW TO PLAN PERSONAL NARRATIVES
A goal without a plan is just a wish. A story without a plan is …a hot mess. I feel like we've all had our share of hot mess writing experiences in our classrooms. Am I right?  Please tell me I'm not alone here.
A good story plan has a place for students to record the topic, the introduction (who, what, when, where), sequencing of events, and an ending.
Now this is important, let them draw their personal narrative plan.
Stay with me now.
If you want your students' writing to improve, let them draw. Drawing is oftentimes seen as inferior to writing, but that's simply not true. The two go hand in hand. Drawing improves writing.  
When students are asked to draw, they are forced to slow down and fully concentrate on their experiences. Research shows that when we allow our students to draw before they write, their writing is more sophisticated and contains richer vocabulary.
So let's let our students draw out their plan before they write.
But that's not all we can do to improve our students' personal narrative writing. There's one other thing that will drastically improve our students' writing. You don't want to miss this next part.
4. THE POWER OF TOUCH AND TELL TO STRENGTHEN WRITING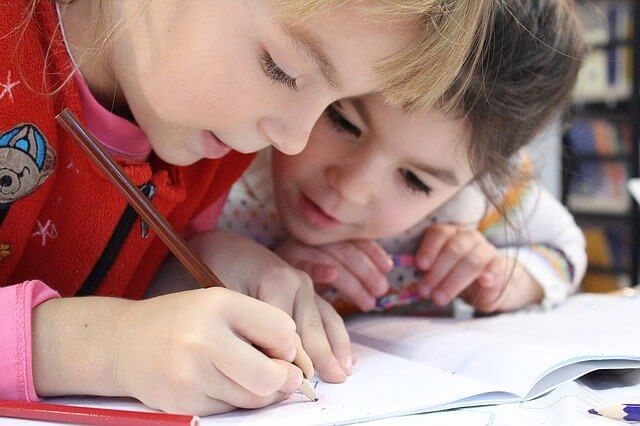 Students have had a wonderful experience, they've created a story plan and are ready to write!
Hold on cowboy (or cowgirl), not so fast. (Trust me, I learned this the hard way.)
If you really want to see top-notch writing, have your students engage in touch and tell before they ever put pencil to paper.
Here's how it works:
Place your students in pairs or small groups.  Have each student touch each part of their story plan and verbally tell that part of the story.
That's it. Easy peasy.
Why does this improve writing?
Just like drawing gives students time to slow down and concentrate on what they want to express in their personal narratives, telling their stories to friends gives students a chance to gather and refine their thoughts as they verbally share their stories prior to writing them down.
Writing, as we know, is laborious for young children. Heck, it's laborious for us as adults. But if we give them time to draw, then verbally share their story, writing becomes less laborious and, as mentioned earlier, richer.
5. MODEL HOW TO WRITE A PERSONAL NARRATIVE
Like with anything in our teacher lives, we want to model what we expect. So when we first teach this genre, we want to model several times prior to students engaging in their own writing.
As we model, we want to be sure to think aloud as we go through the process.
A model lesson might sound something like this:
"Boys and girls, I'm ready to write my personal narrative about our outside adventure. I remember that the beginning of my personal narrative should answer the questions who, what, when, and where.
I'm looking at my picture and I see all of us outside on the playground.
I'm going to write: Today I went on an outside adventure to the playground with my class.
Do I have a when, a where, a what, and a who? Good, I remembered all the parts of a good introduction.
Now I'm ready to write about my events.
I'm looking at the first event picture and remembering that I laid down and looked up at the sky. I noticed that the clouds I saw were white and fluffy. They reminded me of cotton balls. I'm going to write: After walking to the middle of the playground, I laid down on the soft grass and looked up at the clouds. They were so white and fluffy. They looked like giant cotton balls. 
Now I'm looking at my second event picture. I remember that when I got up, the whole class started flying around the playground like airplanes. I'm going to write: Next I started zooming around the playground like an airplane with the rest of the class. We were making zoom, zoom sounds. Then we all started laughing because we looked so silly. 
My third event picture shows me chasing after Grey. I'm going to write: Last, I played tag with Grey. I ran as fast as I could to catch him, but he was faster.  I never did tag him. He thought it was funny that he's faster than me. I thought it was funny too. I think I would have been faster if I didn't have high heels on. 
Now I'm looking at my ending. I'm remembering that we can end our personal narratives with a hope, a feeling, or an action. I want to end with a feeling. I'm going to write: It was so much fun to see all of my students laughing and having fun."
This model time is a great time for mini-lessons. After your students have engaged in several writing experiences, reflect on areas in need of improvement for a good portion of your kiddos, and integrate mini-lessons as needed.
Here are some mini-lessons our students might need:
conventions (proper use of capitals and punctuation)

use of carets for missed words

fragments vs. complete sentences

run-on sentences

adding elaboration (telling more about a particular part of the story)

using onomatopoeia (sounds) to spice up writing

adding adjectives

using adverbs

teach how to use dialogue

strong beginnings (beginning with onomatopoeia, an action, dialogue)
6. SET THEM FREE AND LET THEM SHINE
This is where the sun comes out and radiates light and warmth in your classroom.
You've done it! You've set your students completely up for success as writers.
Watch as your students look at each picture on their plan, then write about that portion of their story without hesitation or frustration.
Listen to the sound of pencils scratching against paper instead of the words I don't know what to write about.
Wander around the room and enjoy the fruits of your labor as your students create wonderful personal narratives that are rich and meaningful to them.
7. EDIT 
Editing, first grade style, looks something like this: Students first read through their writing to make sure it makes sense. If they have missed a word, they use a caret to add the missing word.
Then students will read through their writing again to check for proper use of capitals and punctuation.
8. REVISE
I think you'll agree with me when I say most of our students become deflated at the thought of traditional revision.
Let's make all of our lives easier and go with a first grade version of revision.
It looks like this:
Let's have our students read through their personal narratives one more time.  This time, have them think about anything that might make their writing juicer. For our first graders, simply using a caret and adding an adjective or an adverb to their paper will make it more interesting.
Plus, the more they do this, the more likely they will be to begin using these words during their initial writing phase. Which is what we ultimately want.
If you want to forever squash a child's love for writing, turn revision into rewriting every. single. paper. they write. (It's embarrassing to say but, this was me once upon a time.)
9. DRAW WONDERFUL PICTURES
Drawing a picture certainly does not have to be number 9 in the order of writing a personal narrative. Students have already drawn out their plan, so some students may not want to draw a picture again before they write.
However, some students live to draw, and will want to draw their picture first.
Truly, let's leave this decision up to our students.
If they want to draw first (because they've got the perfect picture already all drawn out in their mind), then write. Great!
If they want to write first (because all that writing goodness is ready to flow right out of them), then draw. Great!
10. SHARE, SHARE, SHARE
Our students have engaged in an activity worthy of writing about. They've created a plan and verbally shared their story with a partner using touch and tell, put pencil to paper and created a wonderful piece of writing, edited and revised their writing, and created a wonderful picture.
Now they are ready to share.
Oh boy are they ready to share.
So much work and a masterpiece to show for it.
Talk about perseverance.
There's just one problem. Time.
In our quest to make every minute count in our classrooms, making time to share is tricky.
But if we don't make time for sharing, will our students take the time to produce the best writing piece they are capable of? Probably not.
So yes…let them share.
Here are a few ideas for sharing. Students will love it if we mix up how we share each time.
Partner Share – Let students pick a partner and share their writing piece.

Small Group Share – Put students in groups of 3 – 4 students and let them all share.

Whole Class Share – During the course of the week, let one student share their writing each day.

Home Share – Assign sharing at home as homework.
11. SO MUCH ELA STANDARDS ALIGNED GOODNESS
Okay…this is not an actual "tip" for teaching personal narratives but…
Did you catch all the standards aligned goodness going on?
It doesn't matter what state you're in, what country you're in, or what standards you've adopted.
You're hitting oh so many standards.
Good teaching is good teaching…no matter where you live.
Language standards are addressed when students engage in experience-based activities, as they do touch and tell with a partner, and as they share their masterpiece.
Reading standards are addressed as students read what they've written over and over and over again (during editing, revising, then sharing). Talk about setting a purpose to reread.
Writing standards are address through all this writing goodness (planning, writing, editing, revising, mini-lessons).
THE BOTTOM LINE:
If you once feared teaching personal narratives, fear no more. Try the tips above and you will see your students' writing soar. And here's the best part, you will sleep easier knowing you are rockin' it in writing. Promise!
If you are interested in a Done-For-You DIGITAL First Grade Personal Narrative Resource, CLICK HERE to check it out.
If you are interested in a Done-For-You DIGITAL First Grade Yearlong Writing Curriculum that other teachers are raving about, CLICK HERE to check it out.
Check out our blog on tips for Beginning of the Year Writing in First Grade.